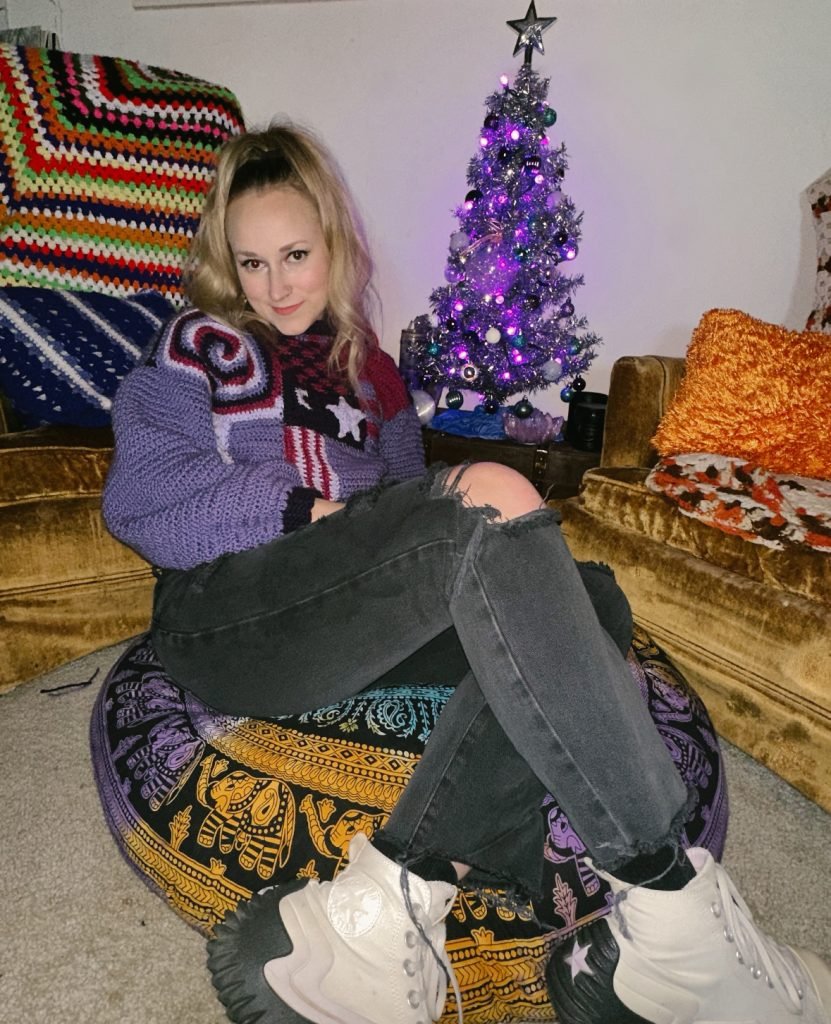 After years of honing my crochet skills, I finally did it. I made my first sweater. Followed my first pattern for a sweater. My first pattern that I bought.
While the process was somewhat gruesome and extremely time consuming, we have a final product to gawk at.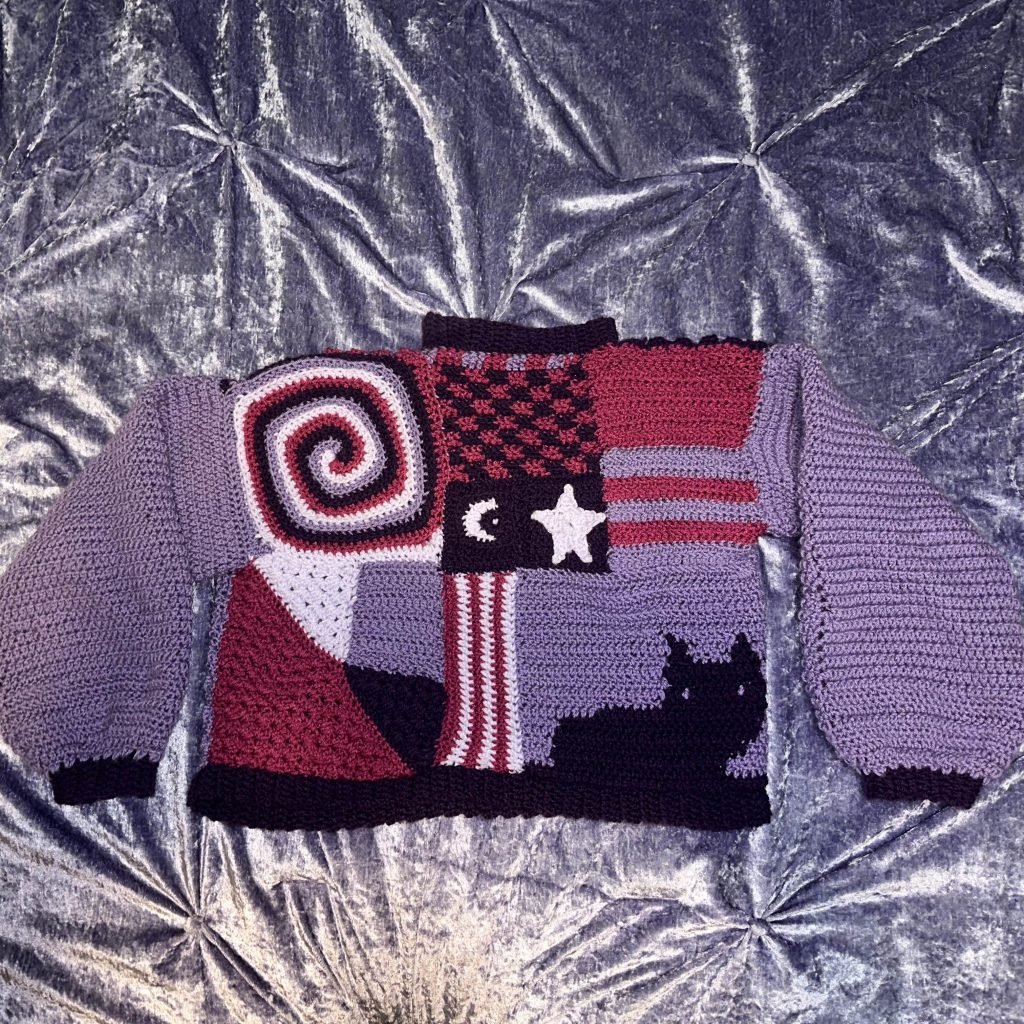 Let me tell the romance story between me and this sweater. It all goes back to 2021 when I first begin my crochet hobby. I saw this sweater on Pinterest and I knew I had to have it. But I knew that it was far too advanced for my current skills, so I pinned it to my vision board and searched for something more manageable(and hopefully in single crochet).
I had just seen a tutorial on how to make a checkerboard bag. Similar hijinx ensued. That is the beautiful thing about learning to crochet. You embody that Ariana Grande song "I see it, I like it, I want it, I got it." All you have to do is buy yarn and learn a whole entire new skill and BOOM you now have a new handmade item.
Around this time, I decided that crochet was not just a hobby I picked up and was going to put back down, so I finally bought the sweater pattern for $9.92 USD(or £8 GBP). I opened it up and I was like oh my god, I cannot do this right now, I need more practice. I was NOT ready to commit to this sweater. It felt like there were 15 different new stitches I'd never heard of before. I only knew tapestry crochet, eat hot chip, and lie. So back to checkerboard bags it was.
And finally, after I completed my first commissioned piece(a black and white checkerboard bag, because duh, why hadn't I thought of that??) I decided it was time to tackle The Beast.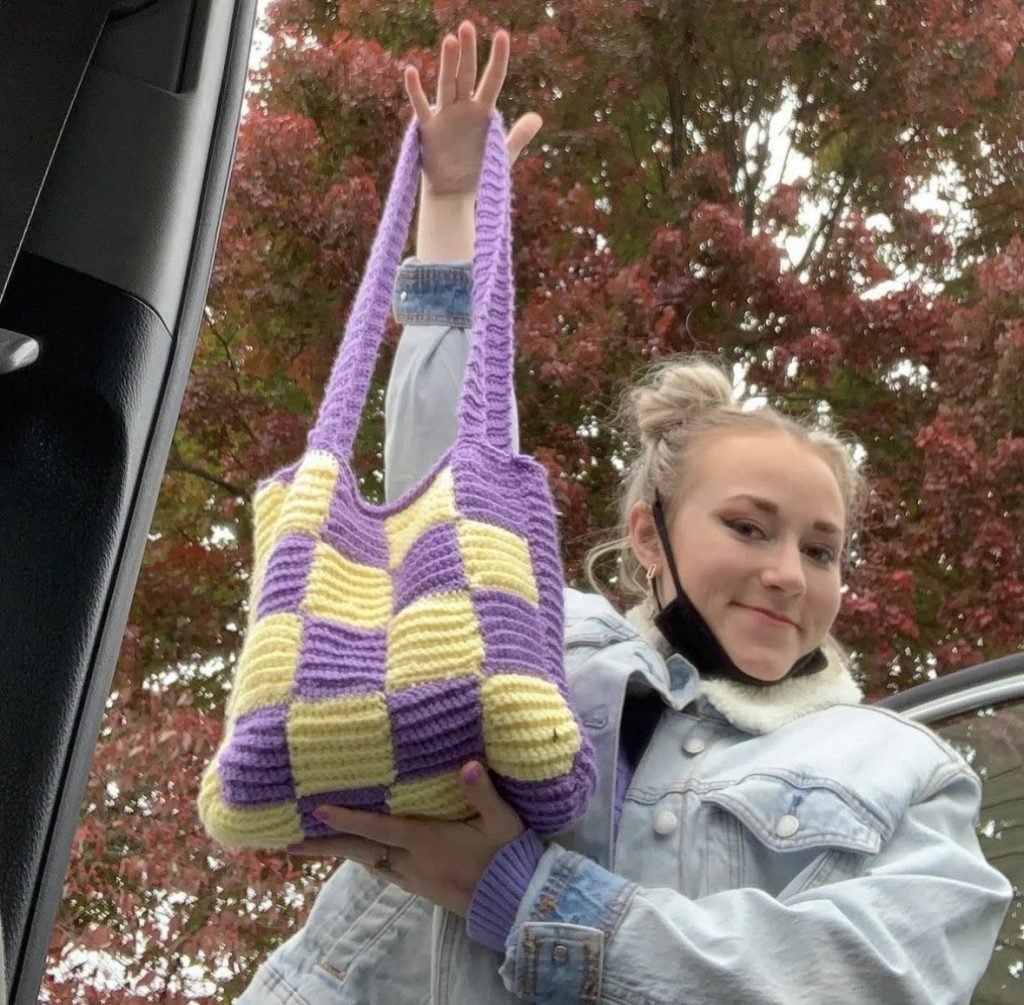 The very first patch was easy, I just did a tiny tapestry crochet checkerboard with a simple new stitch they say is easy for beginners. I began working through the other patches one by one, most of them solid or striped.
I lied. I had actually been dabbling in granny squares, as I made a granny square top for Music Midtown in September(which is a whole other story for another day). This is where I learned things like double crochet and treble crochet, and magic loops. But that was child's play compared to what I had gotten myself into.
The first struggle began with the moon square. I had to make it twice because I just lost track of my stitches completely. Then, once I'd conquered the moon square, I took on the star. Trying to figure out the star based solely on the pattern was like reading gibberish to me, so I looked up a YouTube tutorial.
Once that mountain was accomplished, I arrived at the base of my Mt. Everest this far: The Spiral Square. I tried. I tried to follow the pattern. I did everything it said. I slipped and I stitched and I hooked and I looped. I was continuously coming up. One. Stitch. Short. I started that square over probably 15 times before I caved and found a YouTube tutorial for a spiral crochet square. That's when I discovered the key. The reason my square had been wrong all along: I was missing the slip stitch in the very beginning of the square.
HOW COULD THIS BE????
I had followed the pattern to a T(for Tennessee). To my dismay, I went back to the pattern to discover that the instructions lacked a slip stitch before you begin crocheting.
I'm now questioning every life choice I've ever made. Is this pattern faulty? I don't understand. I've paid money for this, surely SURELY it would be able to tell me exactly how to make the spiral patch.
I'm now pouring over reviews that I can find on Etsy. Not only has the price of the pattern gone up, but the reviews are not good.
I'm at a crossroads. And there's only one road to go down. And it's paved like Lightning McQueen paved Radiator Springs the first time. And it's going to be bumpy.
As a woman, I am also questioning my own skills at this point. I've only made like 3 successful Granny Squares in my whole entire life and now I'm taking on this huge patchwork sweater. Am I just supposed to inherently know to put a slip stitch there? If I were more skilled, would I have been able to figure it out the first time?
Nevertheless, we persist.
The big pink triangle was extremely difficult for me to figure out just by the pattern so I looked it up by way of YouTube tutorial as well.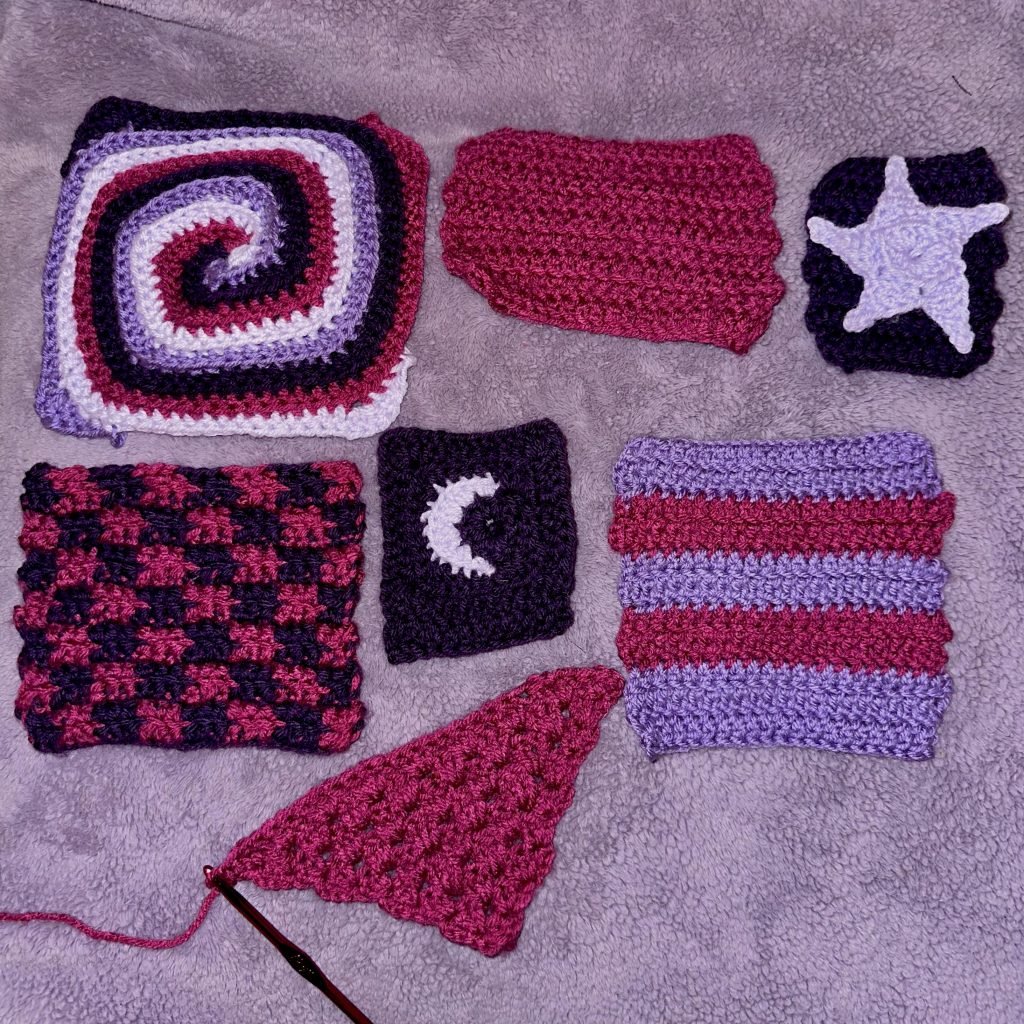 The cat patch was difficult and I had to re-do it a few times, but it was mostly a counting error on my part I thought would work itself out(if you did not know my skill level before, you can definitely tell now).
The troubles did not stop there, unfortunately.
I began on the sun patch and everything seemed fine. I followed the pattern, as you do, and I unceremoniously finished the sun. But the way the pattern told me to do it left me with double as many points as I should've had. So I pulled that apart. At this point, I'm blatantly going against the pattern and just going by the photo. I ended up having to skip more stitches than the pattern said to skip, and ended up with the ideal 8 points.
Once that was done, I had to teach myself how to double treble crochet, with yet another YouTube tutorial, and the filing cabinets in my brain were on fire. Finally, I was out of the woods and I could finish the sun square.
WRONG.
I would end up re-doing the entire dark purple portion of the square because the stitch count was wildly off. Every side had a different count, even by the second time, and I had followed everything this time extremely meticulously. However this time, I left it be.
Why?
Because I wanted to finish the sweater by Halloween, of course! It's now October 8th. I still have to make the rest of the patches AND the arms AND the ribbing AND sew them together.
It's crunch time.
The rest of the patches on the back were pretty standard and I can breeze through them at this point. I work on the sweater every waking hour that I can stand to wiggle my crochet hook between some yarn.
I made one whole sleeve, stopped counting how many stitches it had around and ended up with a strange amount of stitches. I have no idea how that happened(I didn't count as I was going?). Anyway, it's somewhere around October 21st, and I made the executive decision that I'm not going back on that sleeve because the increase is so small you can hardly tell. One sleeve down, one to go.
I easily completed one sleeve in a weekend(without counting) but it took me the entire work week to complete the next sleeve. Amazingly by this point, I'm still not burnt out by the sweater yet.
At some point in the assembly process, I am trying to attach the spiral piece but I realize it's just too small. I remember a review from Etsy that said you should make sure to measure your pieces because they might not turn out right.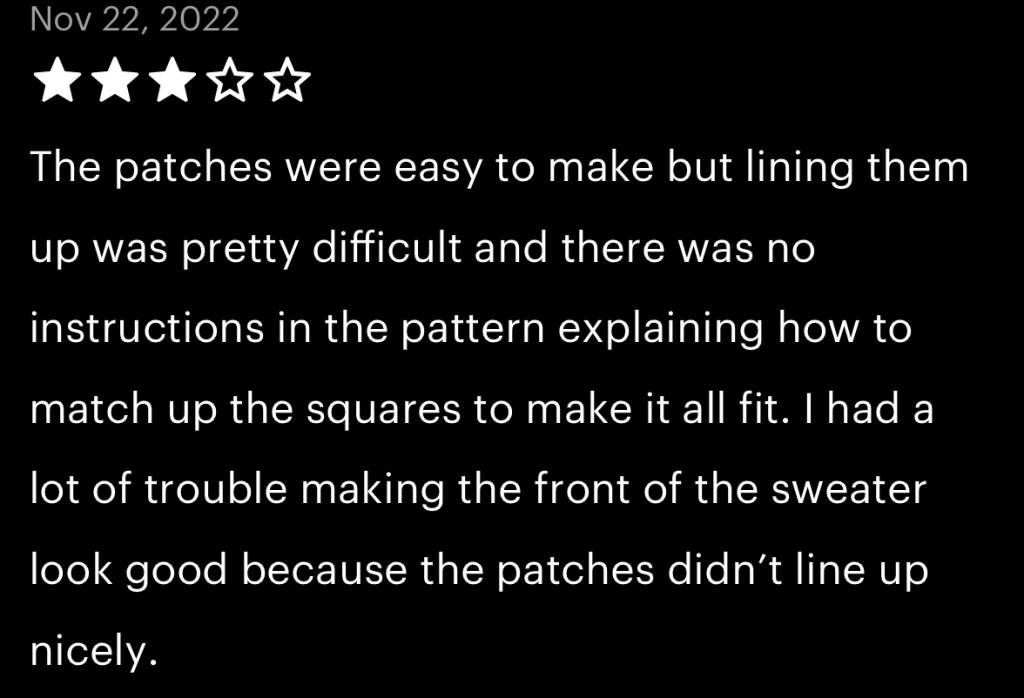 The spiral square was almost 2 inches shy of what the measurements said it would be.
I had to go back in the sweater and add roughly 3-4 more rows to make it the correct size. I also added that discolored checkerboard row because I kept waiting on it to show up later in the pattern and it never did. Looking back I wish I'd left one row off on the spiral, the checkerboard square, and the square next to the two smaller triangles(it looked like a rectangle) because once I attached the ribbing, the large pink triangle started to sag.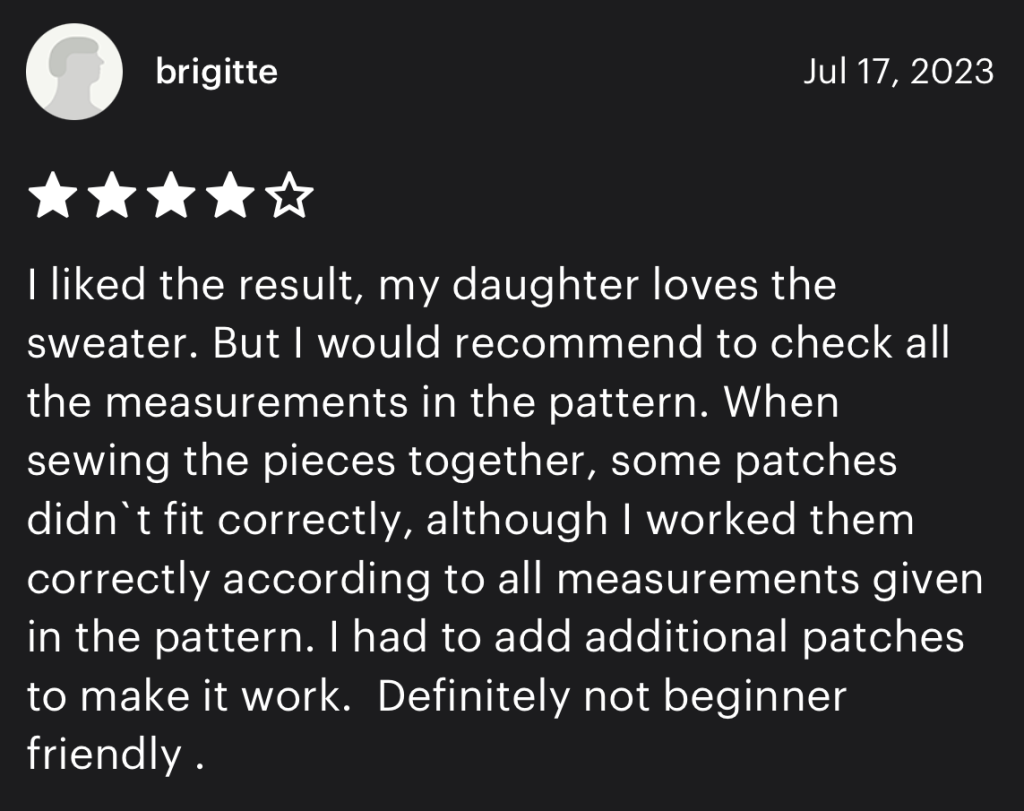 Not only was the triangle sagging, the back of the sweater was shorter than the front. While the description of the pattern does say you can wear it forwards or backwards, I don't think that's what she meant.
After remembering what the same review said about how she had to add on to the sweater to make it fit, I decided I am going to follow in her footsteps. I tried to extend the back as best I could, but if you look closely, you can see where the stitches don't line up on the small dark purple square.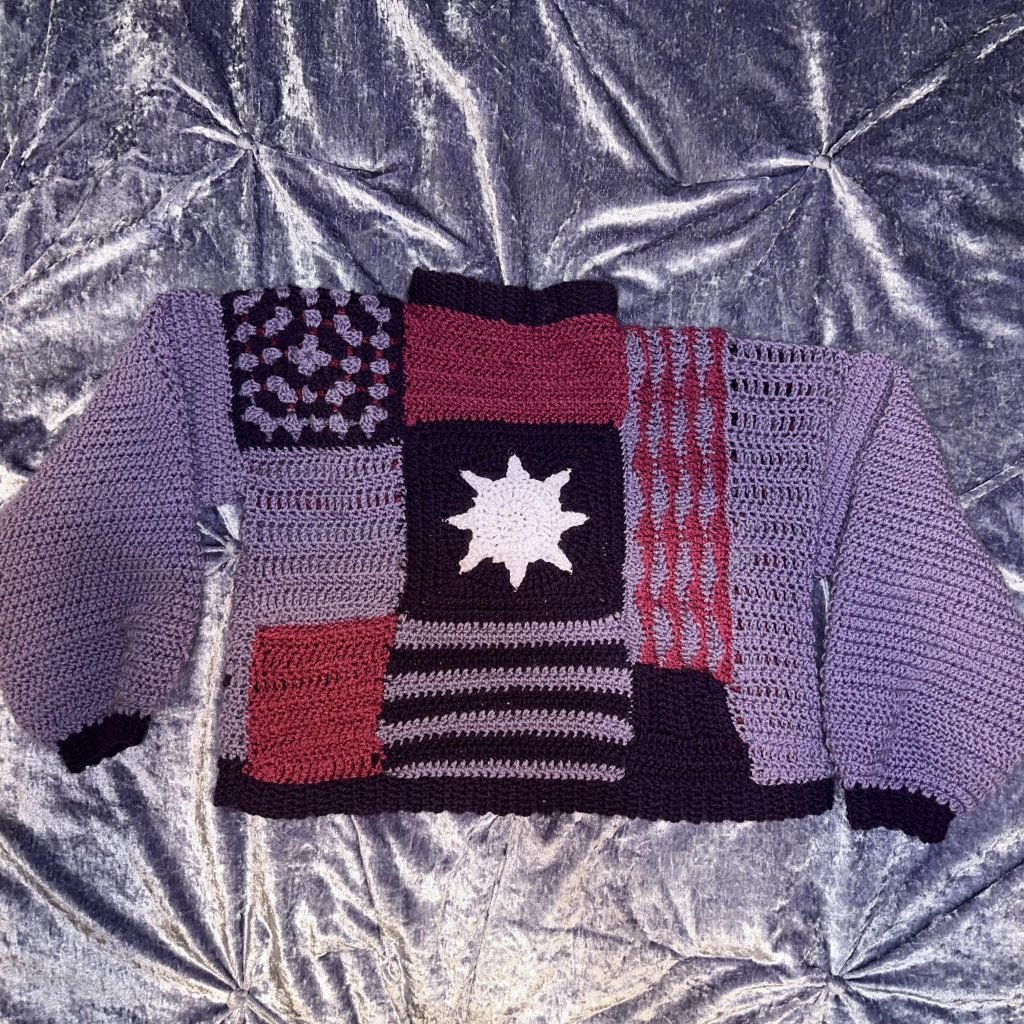 I am eating, sleeping, breathing crochet at this point. It's all I think about, all I wish I was doing in my working hours. All I do outside of working hours. Crochet in the car, on the couch, at the bar, outside, inside, upside down.
And by October 28th, I have the sweater completely assembled.
And none of the ends woven in.
I start weaving in the ends on the cat square on Sunday afternoon. I watched two movies that afternoon. I was only halfway through weaving in the ends of the cat in 4 hours. I'm not that slow, it just had that many ends. I also discovered that the side of the cat square I left my ends on is the opposite of the way it is in the picture, so that's why my cat is backwards.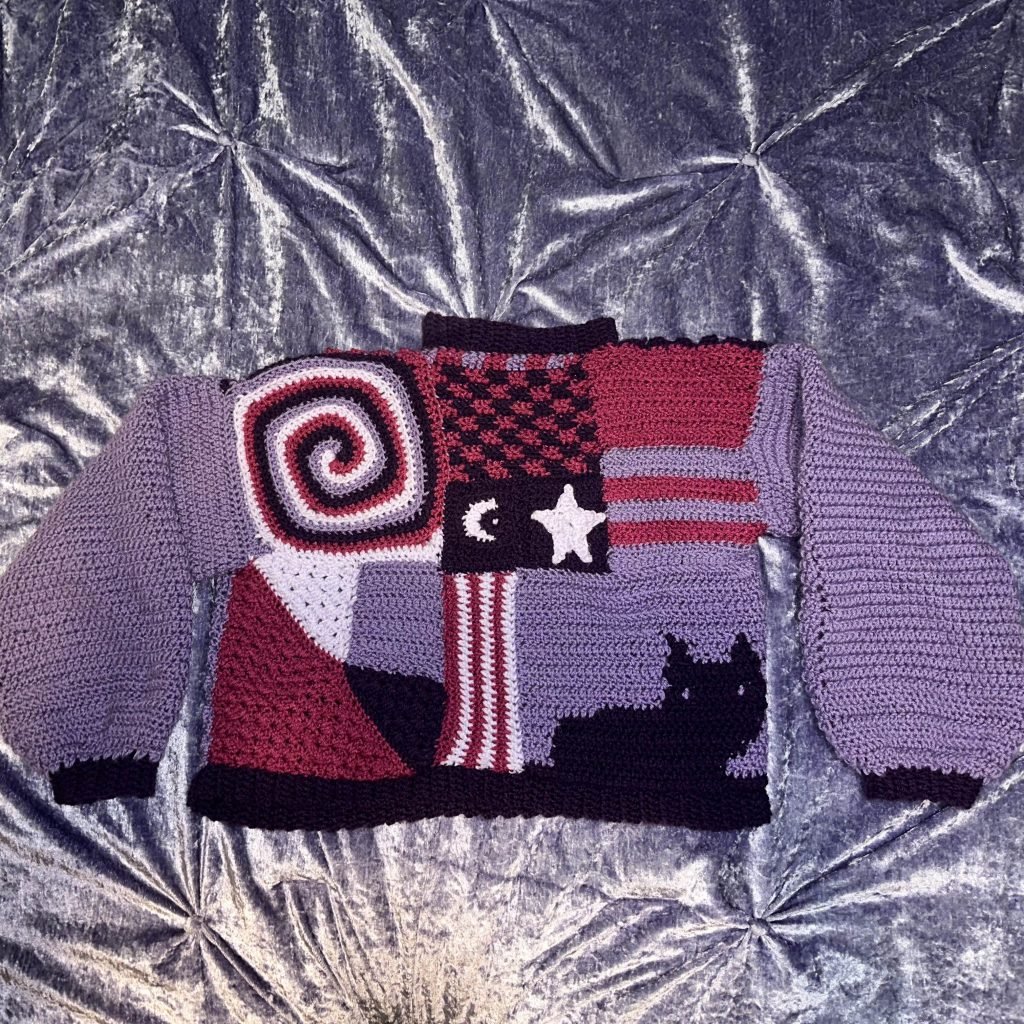 By October 31st, I was not finished with the sweater.
Now this really is My Everest Story, a book about a kid who wanted to be the youngest man to summit Mt. Everest and broke his arm on the way up so he had to go back down, even after all the sunburn.
At this point, I hit burn out on it. I took a few days off. I came back to it. I'm feeling better. So what if it wasn't done by Halloween? Now, I have a Halloween sweater to wear for next year. And I won't look like a scarecrow because all the ends will be woven in.
Finally, by November 10th I'm ready to wear the sweater. I'm going to wear it to a content shoot for a client. They're gonna be in shock, in awe. They're going to ask me where I got it, to which I'll inevitably say "I made it," and the sun will come out from behind a cloud and somehow shine on me in this office that gets zero sun during the day due to all of the trees.
Unfortunately for me, we've hit our final road block in this treacherous journey.
I woke up with a stomach bug that day, so I had to cancel the content shoot.
I laid in bed like a sick Victorian child for 2 days waiting for my ailment to leave me.
Finally, by the third day, I feel good enough to get up. It was 60 degrees and sunny outside, but I put on my sweater and I went to drop off some things at Goodwill and then my dad and I went to the grocery store. I think surely, I'll be stopped like a celebrity in every aisle and people will say "Oh my goodness! I love your sweater. Where did you get that?" To which I'll inevitably say "Thank you so much! I made it." Turns out, I wasn't as healed as I thought, and I spent most of the time in the grocery story trying not to think about how gross raw meat looks.
But, when I saw my mom later, and I was wearing the sweater she said "Oh my goodness! It looks so good!"
And when I went out to dinner with my cousin and my Granny, they were amazed by my sweater. This was exactly the reaction I was looking for. My cousin said "You made that? Oh my gosh." and my Granny said "Oh my goodness, Hannah. That is so beautiful, I can't believe you made that."
Do I wish the pattern was written better? Yes. Was there an alternative available to help me finish this sweater? No. Only me and the wonderful people who upload YouTube tutorials.
I genuinely believe that the pattern maker had good intentions behind it. Her design is beautiful. And hey, have I ever successfully written a pattern? No. I wouldn't even know where to begin. And I got the sweater made, and that's what matters.
Most of the pattern was well written, but I think by reviewing and updating the parts I spoke about above in this post could help elevate the pattern and make it more accessible to intermediate crocheters.
I deeply admire this creator's style and her abilities, and I have for quite some time. I think her creations are beautiful, and the pattern was written in this neon purple font which I thoroughly enjoyed. Half of my mistakes were user errors, it was just hard to reconcile with my errors and my perceived errors of the pattern. And I'm so lucky I even had a pattern to follow.
All in all, I know I spent half of this post talking about things I wish were different, but I am really happy with my sweater, and really proud I didn't give up on it after my imaginary deadline passed. It gave me a chance to think outside of the box, and luckily, I have a purple Christmas tree that matches.
And my teenage cousin thought it was cool, so I get points for that.